Help make live music accessible for all with a tax deductible donation!

Shine Music Festival 2023!
August 26
Civic Center Park
Stay tuned for lineup announcement!
Jeffrey Marshall
Shine Music Festival 2022
"I never thought people would be putting on festivals like this in my lifetime...essentially you are looking at people with disabilities  with a sense of value"
Shine Music Festival Proclamation!
City of Denver proclaims August 27 as the official Shine Music Festival Day!!
A Look Back at
Shine Music Festival 2022
The photos from our 2022 event are up! Check out photos by EJ Carr, Uno Media, and Rocky Montano on our ShineMusic.rocks page!

Check out the photos of the mile high talent of
Rocky Mountain Guy

Luke Nutting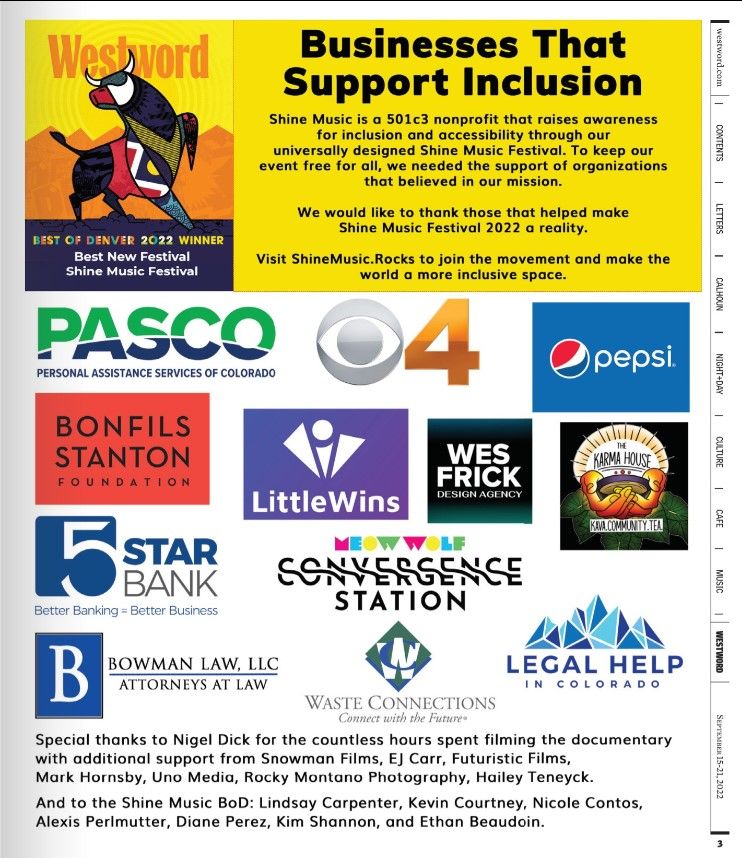 Thank you to the following organizations for your support of the Shine Music Festival 2022.
Pasco
,
CBS Channel 4
,
Pepsi
,
Bonfils Stanton Foundation
,
LittleWins
,
Wes Frick Design
,
The Karma House
,
5Star Bank
,
Meow Wolf Convergence Station
,
Legal Help in CO
,
Waste Connections
,
Bowman Law
,
Nigel Dick
,
Snowman Films
,
EJ Carr
,
Futuristic Films
,
Mark Hornsby
,
Uno Media
,
Rocky Montano Photography
, and Hailey Teneyck.

And to the Shine Music BOD members Lindsay Carpenter, Kevin Courtney, Nicole Contos, Alexis Perlmutter, Diane Perez, Kim Shannon, and Ethan Beaudoin.

Check out the
Westword Sept 15th issue
to see the list of businesses that helped us make this year's event happen!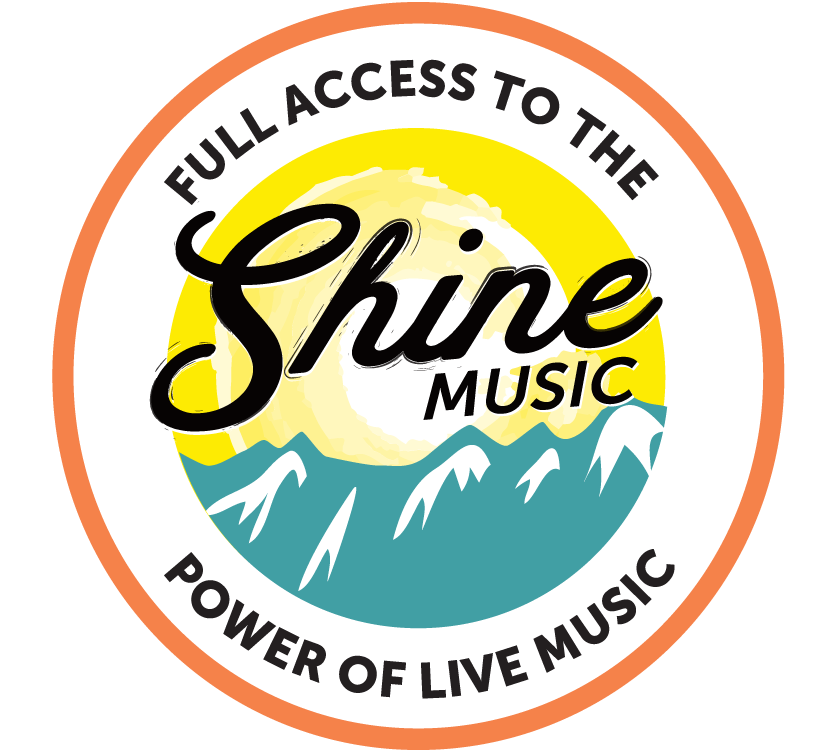 Shine Music is a 501c3 nonprofit that raises awareness for accessibility and inclusion through our universally designed Shine Music Festival.

By combining the staples of a typical music festival, comprehensive accessibility plans, and cutting-edge adaptive technology, Shine Music Festival is a barrier-free space that allows people of all abilities the opportunity to share in the groove together.

Learn more about Shine Music by visiting our organizations page.
"Thanks for giving me the gift of an accessible music festival. I felt empowered and confident to enjoy the experience on my terms and at my own pace. This is the first time I've ever been able to not depend on a sighted human to enjoy a festival like this. Can't wait for next year!"
- Jordyn C
Stay Updated
Signup for our newsletter and be the first to know about future Shine Music Festival events!